Art in the time of Corona
In December 2019 and early January 2020, I had the good fortune of visiting some of the main art museums in Italy and Spain before the virus scare took over the world. What struck me most was how deep and enduring an influence that Espanol's darling and celebrated artist Velasquez had, on masters after his time. And in particular, one of his works.
Las Meninas: The Crowning Beauty of Spain, Corona
The painting grows on you, even as you stand in front of it, absorbing it your senses and sensibilities. The composition, the intelligent and realistic use of light and darkness, the carefully composed postures and expressions which look totally natural at the same time.
Deigo Velazquez was the leading court painter for Spanish King Phillip IV. He was commissioned to paint royal portraits and to record the important events and daily life of the Spanish court. Painted in 1656, Las Meninas hangs in the Museo del Prado in Madrid, the capital of Spain. The word "Menina" means 'lady-in-waiting' or 'Maid of Honour', a girl who serves in a royal court. Las Meninas is considered by many art historians to be the most complex and perfectly composed painting of all time.
It is truly lauded as Les Coronas Arte, the crown or pinnacle of art in Espanol, Spain. When I had the good fortune of visiting the Guggenhein in Bilbo, Museo del Prado in Madrid, Museo del Picasso in Barcelona, and Museo Del Salvador Dali in F in quick succession, I had the good fortune to observe different versions of, and pieces inspired by Velasquez's masterpiece in all these places.
The most recent are these. Meninas, Bilbao: Three large sculptures by artist Manolo Valdés of Valencia, 1942, stand in the pedestrian section of Ercilla Street, since 2008.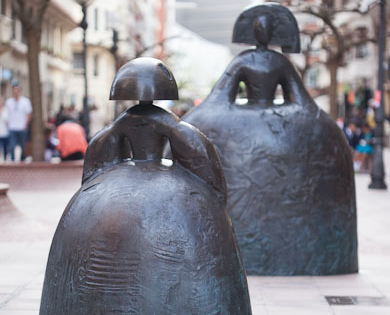 These bronze works are inspired by the characters of the famous Velázquez painting "Las Meninas". The 'Infanta Margarita' is instantly identifiable. He has created more sculptures based on Infanta Margarita which have traveled to various Expositions the world over.
The Real Thing: Museo del Prada, Madrid
Las Meninas by Diego Velasquez! Mesmerizing, I stood transfixed, musing, in front of this doubtless masterpiece.
And time stood still for me, as my eyes followed every curve, every color, every ray of light and tried to fathom the dark recesses of the Royal chamber in front of me.
Las Meninas by Pablo Picasso, Museu Picasso, Barcelona
"I never do a painting like a work of art. It is always a search. I'm always seeking and there is a logical connection throughout that search. This is why I number them [the works]. I number and date them. Maybe one day someone will thank me for it." —From Museu Picasso website, in Alexander Liberman's article "Picasso" in Vogue, New York, November 1956
On August 16, 1957, Picasso etched out the only existing preparatory sketch for his 6′ x 9′, black and white Las Meninas masterpiece that he would go on to complete on the following day, August 17. I was flummoxxed by the speed with which this large black & white materpiece was painted!
Even more compelling about the final work is its reinterpretation of the 1656 original masterpiece by Diego Velázquez. Such swift execution and masterful translation of the compelling original is possible only in the hands of genius. But this was not the inspiration of a single day; it may actually be the work of sixty years.
Ideas that seem to burst forth with inspired ease may have long been incubating in the depths of the mind. Who knows just how long this reinterpretation of Velázquez's original had been in the making. In this case of Picasso's Meninas, we might go as far back as 1897 when, as a sixteen year old on his second trip to El Museo del Prado, he made detail sketches of the original. Plus the influence of watching the 1916 ballet production of Las Meninas by his future first wife's ballet troupe some forty years later.
Picasso's first sketch on August 16, 1957 marked the start of a four and a half month exploration of Las Meninas that culminated in a total of 58 paintings. A look at the 58 paintings that comprise Picasso's Meninas series offers us insight into how ideas move about playfully when given free rein. For the artist, when such exploration is tempered by focus the insights can fuel greater curiosity and discoveries. Each of the detail paintings are individual interpretations of different characters in the tableu!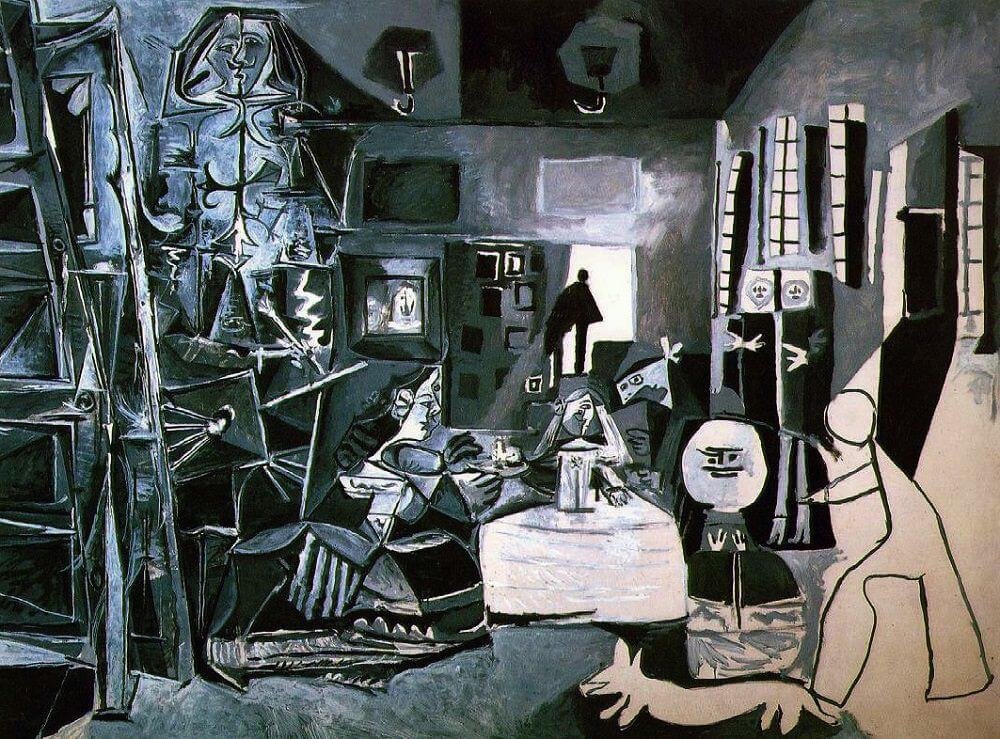 Velasquez through Dali's surreal imagination, Museo de Salvador Dali, Figueres
Not once, but at least thrice has Dali used Las Meninas images, basically that of Infanta Margarita in his avant-garde work bouiling out of his surreal and fevered imagination! Velasquez's influence on the Spanish imagination and psyche is so very evident!
But none of the six graphics in this series is as supremely Spanish in tone and temperament as "Maids of Honor," precisely because it depicts what scholars often cite as the single most important work of art by the Renaissance artist who was Salvador Dalí's single most respected: Diego de la Silva Velasquez.
Now, though, instead of a male figure standing in the doorway at the middle rear of the picture, Dalí has given us a woman, looking very much like she might have been borrowed from a painting by Vermeer – even with the suggestion of a map on the wall behind her, as was often the case in Vermeer's works.
Below, in smaller scale, we find a sepia reproduction of the Velasquez painting, between Dalí's fine sketches of a kneeling man and a woman in a billowy dress, very much like the blonde girl in the foreground of the Velasquez canvas.
The observer/collector gets a kind of dual treat here: the spectacular iconic image Velasquez painted in 1656, and Salvador Dalí's modern, surrealist re-interpretation of it – directly on an image of the original painting, plus the Dalíesque sketches at the bottom of the print. It all adds up to something utterly unique and supremely "Dalínian!"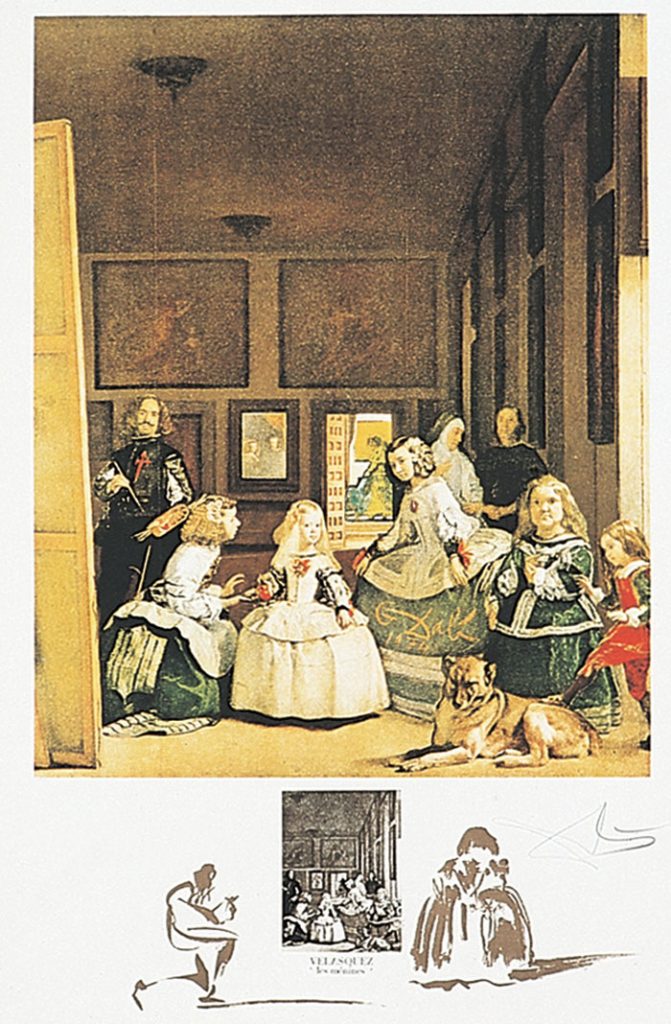 When Dali created among the world's first holograms, he employed Las Meminas imagery in this display of a contemporary bar scene.